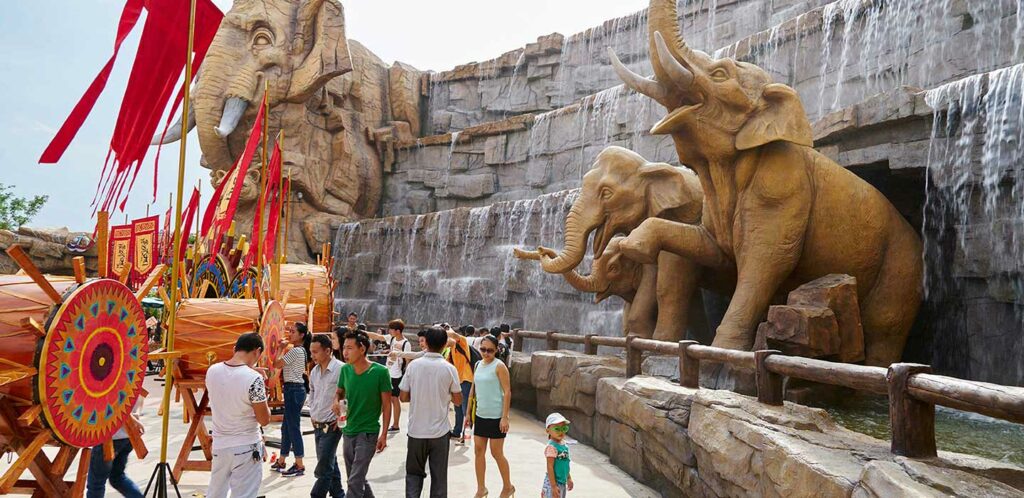 Toronto, Ontario – October 3, 2015 – FORREC Ltd. celebrated the opening of the first major theme park and water park built in Xishuangbanna, located in Jinghong City, China's lush, tropical Yunnan province on September 26, 2015. As lead designer on the 63 ha. site, FORREC, an entertainment design company based in Toronto, created two unique parks.
Part of the Wanda Xishuangbanna International Resort, the FORREC-designed theme park and water park, are the entertainment anchors of a large regional destination, with hotels, a cultural theatre, commercial centre, hospital and a new tourism town. The opportunity to do something culturally unique was central to FORREC's approach to creating the two parks' master plans, concept designs and detail designs.
"We worked hand-in-hand with our developer client, Wanda Group, to embrace the colours, culture and natural wonders of Xishuangbanna," says Gordon Dorrett, president and CEO of FORREC Ltd. "This project was a pleasure, not only because it reflects our specialized skills in creating memorable entertainment experiences, but because it's designed to give back and contribute to the local community."
The theme park is divided into four distinct zones that express the diversity of the region: Butterfly Land, Jungle Adventure, Tea Horse Road and Fisherman's Bay. The water park is a separate gated attraction, which feels like an oversized botanical garden – inspired by the incredibly rich flora of Yunnan province. The Arrival Plaza also functions as a non-gated entertainment space, uniquely designed for events such as the region's much enjoyed water festival celebrations.
FORREC designers were inspired by the energetic, multicultural character of Yunnan province, which is influenced by Thai, Vietnamese, Laos and Chinese heritage, has its own Dai dialect, and is an area of true natural beauty. The outcome is two parks that offer a magical journey, from beginning to end.
Wanda Xishuangbanna opened on September 26, 2015.