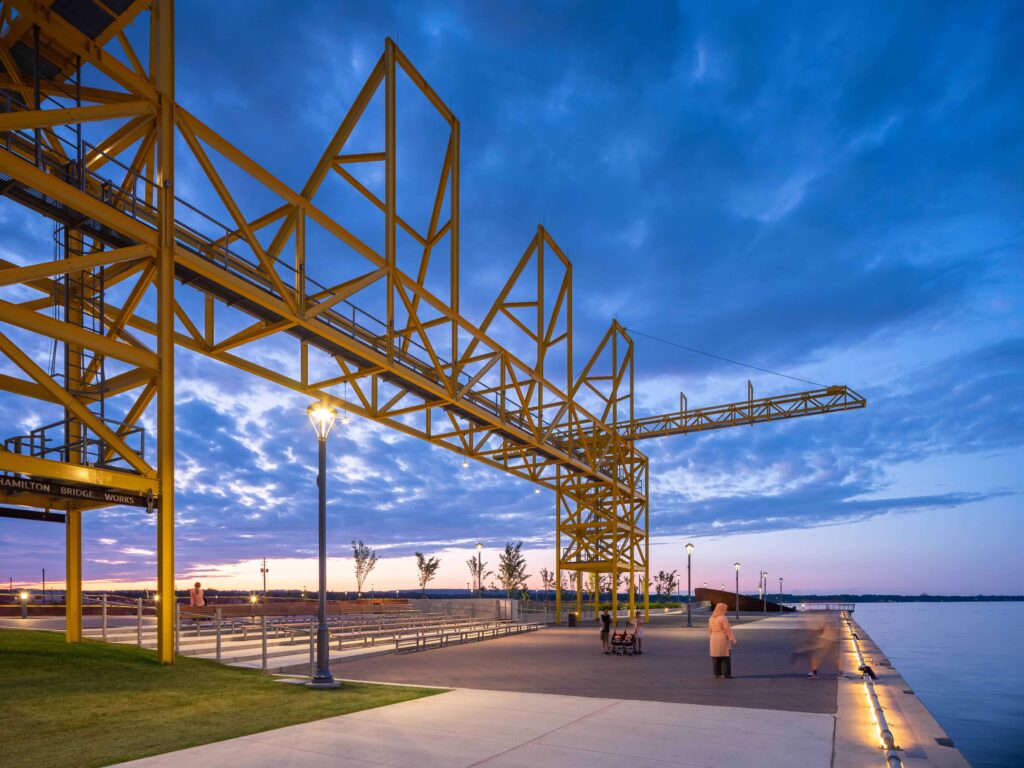 TORONTO – FORREC is thrilled to share Copps Pier has won a National Award from the Canadian Society of Landscape Architects (CSLA) in their annual juried Awards of Excellence program, announced today May 9, 2023.  The project won in the Medium-Scale Public Landscapes Designed by a Landscape Architect category.
Scott Torrance, FORREC's Senior Director – Landscape Architecture, led a multidisciplinary FORREC team of in-house designers, architects, external engineering subconsultants, art consultant and public artists.  The landscape architectural leadership enhanced the project by bringing a holistic perspective that balanced the creative vision, visitor experience and site story with the built elements, planting design, sustainable components, complex engineering requirements and budget.
FORREC's design concept for the decommissioned waterfront pier on Hamilton Harbour, was selected by a distinguished jury after a two-stage open international design competition run by the City of Hamilton. A unique aspect of the design is that it creates three distinct experiences that tell a story about City's industrial and natural heritage:  Hammer Harbour, The Landing, and Boatworks Promenade.  These three experiences combine to create a public space that connects to the existing waterfront trail system, the adjacent emerging mid-rise community and celebrates its incredible location and views of Hamilton Harbour and the Niagara Escarpment.  FORREC's concept seamlessly weaves contemporary waterfront design while evoking the historic use of the site with the ship hulls, gantries, and groves of native, Carolinian trees.  It is bold and yet simple in its execution, robust and muscular as befits this proud industrial city.
The City of Hamilton is demonstrating the value of an investment in the public realm and design excellence prior to the construction of the adjacent waterfront.  The new park destination is a great example of giving the waterfront back to the people.
"Copps Pier celebrates Hamilton's past, present and future," said Scott Torrance, Senior Director – Landscape Architecture at FORREC. "Punctuated with native trees, wetland vegetation and public art, Copps Pier adds over 1.4 hectares of new park space with full public access to the water's edge and connections to the existing waterfront trails. Steel, concrete, and timber combine industrial iconography with people-friendly elements to celebrate Hamilton's proud industrial identity. Delivering a new urban park that maintained the key features of the original concept required a complex multidisciplinary team, and on behalf of FORREC, the dedicated designers, architects, engineers, and artists that worked on this project, and, we are very proud to accept this award of excellence."
"Congratulations to FORREC, ORIN and the entire design and construction team on this award, and to all of the City staff who helped make this project happen," said Jason Thorne, General Manager of Planning and Economic Development Department, City of Hamilton. "The success of the park speaks to the important role that design competitions can play bringing citizens and designers together to create meaningful and innovative public places. Copps Pier park has very quickly become one of the most beloved public spaces in Hamilton's emerging new West Harbour district."
Under the direction of Torrance, FORREC completed Schematic Design, Design Development, Construction Documents, and Contract Administration, providing  Landscape Architecture, Architecture, Architecture, Signage and Wayfinding, Graphic Design, Visualization, and Visitor Experience services in-house. The sub-consultant team included:
| | |
| --- | --- |
| CIMA+: Civil Engineer | Suzanne Powadiuk Design: Lighting |
| EXP: Electrical, Structural and Mechanical Engineers | Creative Irrigation Solutions Inc: Irrigation Design |
| Altus – Cost Consultant | Andrew Davies: Public Art Consultant |
| TH&B Collective: Artist | Simon Frank: Artist |
-30-
For more information, please visit forrec.com
Social Media:
Instagram | Twitter @FORRECDesigns
Facebook.com/ForrecDesigns
LinkedIn: /company/forrec
ABOUT FORREC
FORREC is an experience design company that has created some of world's most successful leisure and entertainment destinations globally. We go above and beyond with inspiring creativity, ingenious know-how, and transformative guest experience. FORREC's extensive experience in strategy, planning, and design, allows us to create compelling guest experiences rooted in imagination and immersive storytelling for location-based entertainment including theme parks, attractions, water parks, mixed-used + entertainment, landscape architecture + urban design, and resorts. Our team can deliver a full spectrum of creative and design management services to meet the objectives of any experiential design project at all scales, locally and globally.
With a history that spans over 35 years, FORREC has experience working with brands all over the world, including in six continents, and built projects in over 30 countries. FORREC is headquartered in Toronto, Canada with offices in China and the U.S.