New logo, visual identity, website, reflect company's commitment to growth, elevated creativity, and creating transformational guest experiences
TORONTO – FORREC, a leading global experience design firm, unveiled its new branding and visual identity across all platforms, spotlighting our vision to fulfill the world's dreams for recreation, fascination, and togetherness. Aligned closely with FORREC's strategic vision, our new modernized look represents our continued commitment to growth and innovation, our evolution of core brand values, and our dedication to providing unparalleled experiences.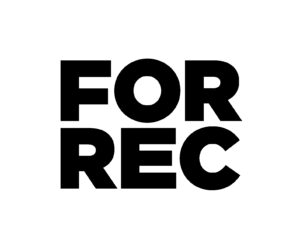 FORREC's brand evolution includes:
New Logo: The FORREC logo is inspired by our brand essence, which focuses on imagination and highlights our innate ability to be the dreamers and doers. The bold weight of the text and stacked logo provide us with a more modern, timeless, streamlined look which stands out conveying more of a presence much like our reputation in the industry. Stacking the logo is a playful nod to our name, which is an abbreviation for, "For Recreation".
New Brand Colours and Graphics: The multitude of FORREC's fresh new colour palette speaks to the spirit, flexibility, imagination, and uniqueness showcased in our work. We're leaders, sociable, innovative, diverse, and creative, through and through. Our graphic asset, the "FORREC pattern," gives depth and movement to our brand and deliverables, highlighting our dedication to creativity, transition, and continuity.
To coincide with the brand refresh, FORREC has launched a new website, reflective of the new visual identity (forrec.com). Upgraded to provide a seamless user experience, the redesigned website showcases and celebrates FORREC's creative new identity, spotlighting the inspirational destinations around the world we have designed. With a focus on our experience-centric approach, the site includes a diverse portfolio of FORREC's work for clients including Universal Studios, LEGOLAND®, Dubai Parks and Resorts, Chimelong Group, Triple Five Group, and Herschend Family Entertainment.
"The new logo and brand assets show a refreshed bold, more playful, and imaginative side of FORREC. Imagination is at the heart of what we do and speaks both to our output and our environment, expressing our collaborative way of working," said Michelle Lemmon, Director of Marketing, FORREC. "Creativity and innovation are at the heart of who we are; its not just what we do, it's part of our identity. The cohesive brand elements and colours will help tie all our assets together on all our materials."
"As a creative design studio, FORREC has a long and storied history reaching back even before we incorporated as FORREC. We celebrate our people, our clients, our strategic partners and the millions of guests who helped build the foundations that we stand on today. Our new logo and rebrand acknowledges the great optimism and purpose driven progression, as we continue to grow and create opportunities for the future," said Cale Heit, CEO and President, FORREC. Our brand refresh really captures the wonder and amazement of the experiences we create for our clients and their guests while reflecting on our broad project types and global footprint. Even though our logo is changing, our dedication to delivering on the vision and goals for our clients is unwavering; our ingenious know-how, ability to build unprecedented relationships, and produce exceptional experiences. will never change."
As the world has drastically changed over the last two years, the rebrand comes as FORREC continues to grow and adapt to ever-changing industry trends, meet clients' and partners' evolving needs, and better serve in-person, digital, or hybrid audiences through our vast service offerings. With our collaborative teams, every project is a seamless, unique creation; we offer everything from strategic visioning, concept design, program development, master planning, experience planning and design through to on-field design intent direction, ensuring it flows together as one integrated process to achieve our client's strategic vision.