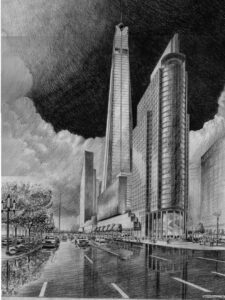 Prismacolor render for Crang and Boake Architects 1980's
In the world of experience design, where digital creations dominate, there exists a realm of hand-drawn artistry that has almost faded away. Among the few remaining guardians of this vanishing craft stands Terry Brown, an exceptionally talented illustrator at FORREC. Renowned for his breathtaking sketches, Terry's portfolio captures the essence of immersive experience design. However, Terry's story goes beyond mere artistic endeavors. His narrative delves into a profound exploration of the world, a quest to comprehend diverse cultures, and a profound understanding of human behavior and desires. As a master storyteller, Terry has infused his designs with the magic of immersive experiences, captivating audiences and bringing their dreams to life. Terry's life story is evidence of the transformative power of travel and the pursuit of genuine connection with the world around us.
At 79, Terry has a wealth of life experiences. Born in Willow Bunch, Saskatchewan, Terry has called Toronto his home for over 35 years. However, Winnipeg is where he grew up and pursued his education, culminating in a Bachelor of Architecture from the University of Manitoba.
From an early age, Terry's love for drawing laid the foundation for his profound interest in design. As a child, he was constantly immersed in sketching, ultimately becoming the go-to person within his family for creating captivating Christmas and birthday cards.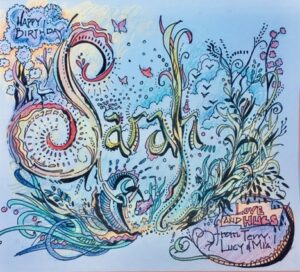 Birthday card 2010
Terry's path towards FORREC, a renowned global experience design company, was not a direct one. Before his time at FORREC, Terry embarked on many unique entrepreneurial ventures. Terry's creative journey is an amalgamation of remarkable accomplishments and diverse experiences that have shaped his trajectory as an entertainment design visionary. One of his notable achievements was the development of the Port a Park system in Winnipeg during the early 1970s. This innovative modular park system aimed to create pedestrian areas and transform vacant downtown lots into vibrant spaces. The prestigious Center de Création Industrielle (CCI), a French cultural organization linked to industrial design and later becoming the Center Pompidou held a contest. Terry boldly entered the Port a Park system and emerged victorious leading to the extraordinary honour of having his winning entries showcased in the Louvre Museum.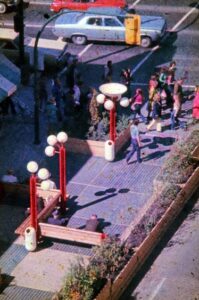 Port a Park Street Park 1972
The recognition garnered from the Louvre exhibition, coupled with his passion for enhancing urban spaces, propelled Terry to new heights. He applied for and was awarded the esteemed Nuffield Foundation fellowship, which took him to London in 1972. During his year-long fellowship, Terry immersed himself in studying urban design, architecture, and the development of New Towns. He delved into the intricacies of creating vibrant, people-centric environments, drawing inspiration from the rich architectural heritage and innovative projects in the British capital. His time in London, including attending projects at the esteemed AA architectural school, further refined his skills and expanded his understanding of urban design principles.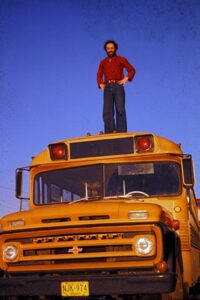 Street Seats School Bus 1977
After returning to Canada Terry established a public furniture company, called Street Seats where he showcased his creative designs. Living in a bus that doubled as his showroom, he traveled from place to place, proudly displaying his work which included cast iron benches, which have since become a fixture in parks throughout Toronto. Terry's ability to blend artistry with functionality in his furniture designs reflects his innate talent and entrepreneurial spirit. Along his diverse professional journey, he explored various fields, including architecture, landscape design, industrial design, and graphics design, finding comfort and proficiency in each discipline.
In the 1980s, Terry embarked on a new creative adventure, working in the television industry as an Art Director for television commercials. This unique opportunity allowed him to explore storytelling, lighting techniques, and the dynamics of working in collaborative teams. His time in the television industry honed his ability to craft compelling visual narratives and further enhanced his skills in collaboration and teamwork.
It was his encounter with FORREC that proved to be serendipitous, where all these creative realms converged into a harmonious whole. At FORREC, Terry discovered a collaborative atmosphere where architecture, design, and imagination intertwined seamlessly—an ideal environment that allowed him to fully express his artistic vision. Terry's boundless creativity has flourished, making him an invaluable asset to the company and industry.  Terry is not only a visionary in the experience design industry but also a devoted family person. In parallel with his diverse experiences, Terry's unwavering support system has been his wife Lucy, who has been by his side for many years. Lucy serves as his constant source of inspiration and support, providing the foundation for Terry's remarkable career. Her belief in his talent and dedication has fuelled his drive to push boundaries and excel in the field of experience design. With five children and five grandchildren, he takes immense pride in his family and cherishes the connections he has nurtured throughout his life.
Having initially joined FORREC as a freelance illustrator, Terry's exceptional talent and unwavering dedication quickly led to his integration into the company as a full-fledged employee in 1995. Over the years, he has become a key figure within FORREC, consistently pushing the boundaries of artistic excellence. His impact extends beyond his remarkable hand-drawn designs, as Senior Creative Director and master storyteller he has played a pivotal role in shaping the company's creative direction and driving its success.  Terry's humor and light-heartedness shine through in his interactions with colleagues. He often playfully joked that FORREC was his company, teasing that he had a team of talented individuals flying around the world to bring him amazing things to draw. This lighthearted banter not only reflects his sense of camaraderie with his colleagues but also underscores his appreciation for the collaborative atmosphere that FORREC fosters.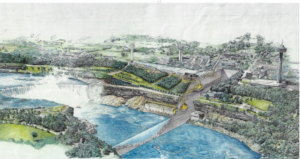 Niagara Falls study for Moriyama and Teshima Architects 1985
As the world of experience design continues to expand rapidly, Terry sees boundless opportunities emerging. The advent of new tools and technologies enables more realistic and immersive experiences, challenging designers to push their creativity to new heights. Every sketch Terry creates carries within it the essence of a place he has visited, a story he has heard, or an emotion he has felt. His illustrations serve as windows into the worlds he has encountered, offering glimpses of the beauty, diversity, and shared humanity that exist beyond borders. Through his art, Terry bridges the gaps between cultures, inviting viewers to explore and appreciate the richness of our global tapestry.
Terry's insatiable curiosity and his collaborative approach play pivotal roles in informing his experience designs. His genuine thirst for knowledge drives him to dive deep into the cultural and historical aspects of the projects he undertakes. By immersing himself in the core of different cultures, he gains a profound understanding of their unique characteristics, values, and storytelling traditions.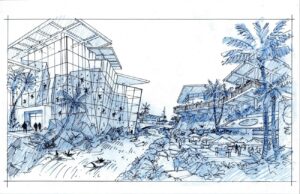 Sketch of Mixed-Use Development study
Through collaboration with clients, colleagues, and experts, Terry combines his knowledge with diverse perspectives. He actively seeks input and engages in open dialogue to ensure that every design decision is informed by a multiplicity of viewpoints. This collaborative approach allows him to create experiences that resonate with a wide range of audiences, transcending cultural boundaries.
Through his involvement in projects that have taken him to Australia, the United States of America, Brazil, China, the Middle East, and beyond, he has forged lasting connections with clients and industry leaders. From interpreting cultural nuances to transforming BBC's renowned programs into immersive experiences, Terry's ability to capture the essence of diverse narratives has been a cornerstone of FORREC's success.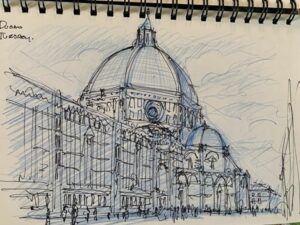 Travel sketch of the Duomo, Florence Italy
As FORREC embraces technological advancements, Terry remains at the forefront of innovation. Witnessing the shift from hand-drawn illustrations sent by mail to instant digital communication with clients, he recognizes the transformative power of emerging tools, particularly artificial intelligence (AI). Embracing the potential of AI, Terry is actively exploring how it can enhance his design thinking, challenge his creativity, and shape the future of entertainment design.
Within FORREC, Terry's dedication to fostering talent and sharing his expertise is evident. His involvement in the 2023 themed attraction student showcase demonstrates his commitment to nurturing the next generation of creatives. By providing advice, guidance, and inspiration, he continues to shape the industry's future and solidify FORREC's position as a leader in experiential design.
As he continues to inspire and innovate, Terry exemplifies the creative force that drives FORREC's ongoing pursuit of groundbreaking experiences and enduring connections with audiences worldwide.
Terry's masterful illustrations serve as windows into the diverse landscapes, traditions, and stories that shape our world. With every stroke of his pen, he invites audiences to embark on transformative journeys, fostering empathy, connection, and a deep appreciation for the richness of global cultures. Together with FORREC, Terry continues to push the boundaries of experience design, shaping immersive experiences that transcend borders and leave an indelible mark on the hearts and minds of those who encounter them. His life story stands as a testament to the power of following one's passion and the boundless possibilities that unfold when we embrace the world around us.
In honoring Terry Brown's visionary journey and exceptional contributions, we celebrate the spirit of collaboration that lies at the heart of FORREC. As an organization, we recognize that our success is not attributed to any one individual, but rather the collective brilliance and talent of our team. Terry's profile stands as a testament to the power of shared ideas, diverse perspectives, and the profound impact of experience design.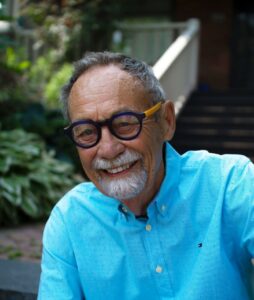 Portrait by Justyn Berkovits