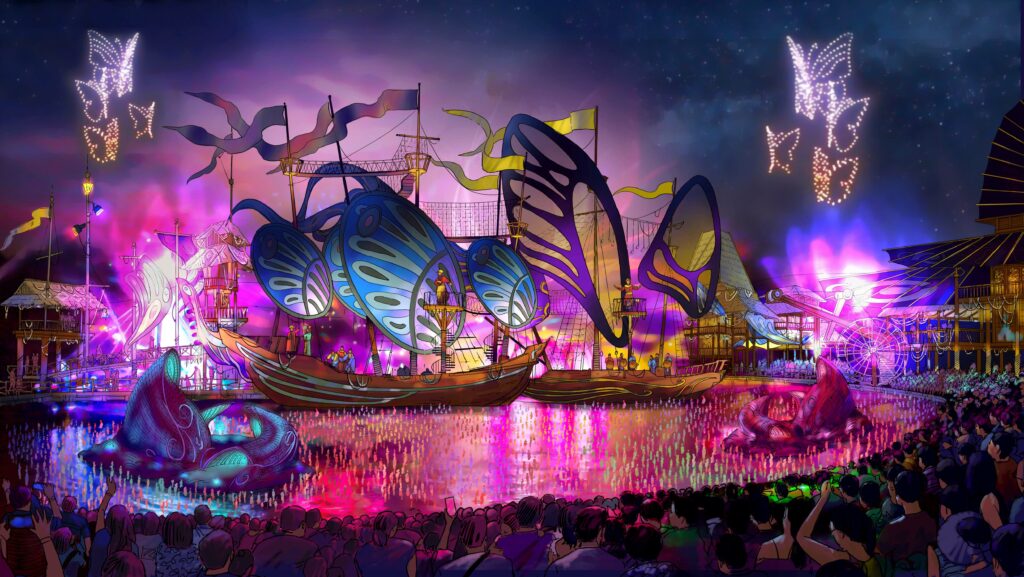 FORREC and SUN GROUP combine FORREC's industry leading design services with SUN GROUP's world class development and tourism capabilities
TORONTO, ON – FORREC, an experience design company in Toronto, Canada, and SUN GROUP – Vietnam's premier developer of luxury resorts, entertainment projects and tourism-related infrastructure, are pleased to announce today that they have entered a long-term strategic partnership. Working together since 2016, each organization are leaders in the industry that bring a depth of knowledge and global experience to the table.
This newly formed partnership represents their continued commitment to growth and innovation in a fast-growing, global themed entertainment industry. This is an unprecedented, historical deal between FORREC and SUN GROUP as this new partnership leverages the respective strengths of each organization to create many compelling, memorable experiences, helping to bolster SUN GROUP's entertainment offerings in Vietnam.
The FORREC & SUN GROUP partnership brings together a shared love for design and entertainment; industry leadership; deep skills in strategy and design; and extensive understanding in building transformational experiences. Under this partnership. FORREC will provide SUN GROUP with executive level support and a dedicated team to provide local coordination and project design, as well as thought leadership and industry knowledge, drawing upon its' unique history and expertise. In turn, SUN GROUP has designated FORREC as SUN GROUP's first-priority international design consultant in Vietnam on experience and entertainment focused projects.
QUOTES:
"Partnering with SUN GROUP to deliver exceptional designs, programming, and strategies will allow us to create transformational guest and visitor experiences in Vietnam," said Cale Heit, President, and CEO, FORREC. "After collaborating for over six years and on dozens of projects, it felt natural to combine our breadth of experiences and knowledge and finally make our long-standing relationship official. Together, working as one team, we will unlock the full potential of experience design and strategy, ensuring continuity, efficiency, and innovation in all our projects."
"The FORREC & SUN GROUP partnership is a powerful combination. As the preeminent leisure and entertainment developer in Vietnam, SUN GROUP's understanding of complex developments and agile, collaborative approach is uniquely complimentary to how the FORREC team works," said Eric O'Rourke, Senior Director, FORREC. "We believe this partnership will help to create industry leading attractions and position Vietnam as one of the world's top experience destinations."
"We would be delighted to officially establish a long-term strategic partnership with FORREC. We put our full trust in the author of entertainment works like wonderlands to keep turning seemingly impossible creative ideas into reality, to "draw the fairy tale out" that FORREC has persistently told the world over the past 30 years." shared Nguyen Lam An, Deputy Director of Sun World, SUN GROUP.
"The cooperation between SUN GROUP and FORREC promises to create a new chapter in the journey of bringing the world's quintessence to Vietnam with international-worthy amusement parks for Vietnamese people. Together we can promote the beauty and tourism potential of Vietnam to the world. Each project promises to be a creative story of its own to create the momentum for the tourism sector of Vietnam in the future." said Nguyen Lam An, Deputy Director of Sun World, SUN GROUP.
– 30 –
Social Media:
Instagram | Twitter @FORRECDesigns
Facebook.com/ForrecDesigns
LinkedIn: /company/forrec
ABOUT FORREC
FORREC is an experience design company that has created some of world's most successful leisure and entertainment destinations. We go above and beyond with inspiring creativity, ingenious know-how, and transformative guest experience. FORREC's extensive experience in strategy, planning, and design, allows us to create compelling guest experiences rooted in imagination and immersive storytelling for location-based entertainment including theme parks, attractions, water parks, mixed-used + entertainment, landscape architecture + urban design, and resorts. Our team can deliver a full spectrum of creative and design management services to meet the objectives of any experiential design project at all scales, locally and globally.
With a history that spans over 35 years, FORREC has experience working with brands all over the world, including in six continents, and built projects in over 30 countries. FORREC is headquartered in Toronto, Canada with offices in China and the U.S.
For more information, please visit forrec.com
ABOUT SUN GROUP
Established in 2007, Sun Group started out in Vietnam as a local business enterprise and has since become one of the country's leading companies across four key sectors: Entertainment, Hospitality, Infrastructure and Real Estate. In each sphere of influence, it has left a timeless imprint across Vietnam, forging innovative projects and structures of great beauty and value that transcend the test of time.
Sun Group owns three member brands: Sun World, Sun Hospitality and Sun Property. For many consecutive years, the group has improved the reputation of Vietnam's tourism in the international arena with timeless works and a series of prestigious awards.
In particular, Sun World by Sun Group is a valuable brand in the entertainment industry of Vietnam, owning a series of leading amusement parks and entertainment complexes, including Sun World Ba Na Hills, Asia Park, Sun World Fansipan Legend, Sun World Ha Long, Sun World Phu Quoc, Sun World Ba Den Mountain, Sun World Cat Ba. With its outstanding entertainment services, Sun World proudly brings to customers the pleasant surprise of riding world record-breaking Cable Car Systems, the extreme excitement of adventurous games, the everlasting laughter when plunging yourselves into the street dance, the happiness of family union and the thrilling discovery of Vietnam's famous beauty spots.
For more information visit www.sungroup.com.vn