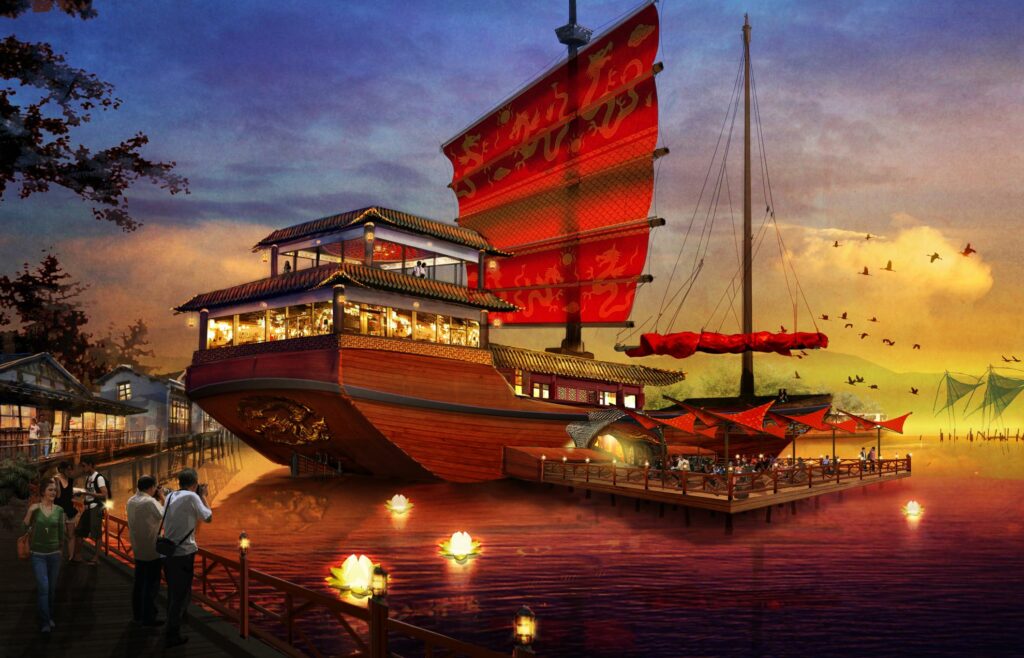 TORONTO, Ontario, May 28, 2016 – In a grand celebration, Wanda Nanchang Outdoor Theme Park was opened today in Nanchang, China. Global entertainment design company, FORREC Ltd., was on hand for the opening and also at the helm for the master plan and design development of the 78-hectare theme park.
The park reflects the rich historical and cultural content of the JiangXi region of southern China and includes 32 rides, among which is the tallest, fastest and longest wooden roller coaster in China.
FORREC was inspired by the idea that Nanchang is well known for its fresh water lakes – including Poyang Lake, the biggest fresh water lake in China – as well as majestic mountains and other beautiful natural features. Building a theme park around an existing lake as well as the site's rolling topography created exciting design challenges for FORREC.
"Storytelling is a central aspect of this region and the culture is rich with material to draw from," said Linda Hung, Senior Director, Theme Parks, FORREC Ltd. "We used some of Jiangxi's favourite stories to create immersive experiences that take guests through five zones, celebrating the porcelain industry, ancient poetry, famous architecture, fairy folklore, life on the water and natural splendor."
"It's our pleasure to be a part of another exciting Wanda Group project," said Gord Dorrett, President and CEO of FORREC Ltd., who attended the opening ceremony. "This is an iconic brand in China and FORREC has been honoured to help develop several recent projects including Wanda Xishuangbanna Theme Park and Water Park in the region by the same name and also Wanda Movie Park in Wuhan, China."