Outdoor amenity space design is no longer just about infinity pools and chaise loungers. Today's developments, whether they are low, mid or increasingly high rise must be able to attract, accommodate and engage all types of residents – children, adults, and seniors in all combinations: singles, co-living, partners, families, retirees and multi-generational families. Many of these residents and their guests will have pets that need to be accommodated and it's important we don't forget about the other various life forms that inhabit our communities such as wildlife, pollinators and flora/fauna.
Taking a cue from the world of resorts, visitor attractions and theme parks, provides developers and operators with ideas that could be used to make their project stand apart from their competition. As sustainability and climate change are top of mind for many people and an important consideration when they choose where to live, these features should be highly visible and celebrated in the outdoor spaces of the project.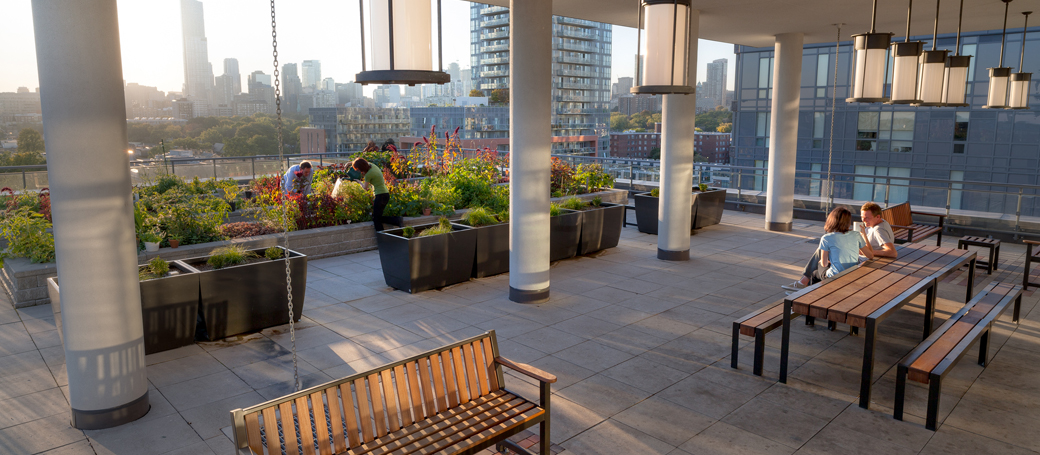 First, there are several must-haves almost every new development should provide:
• Different types of casual seating: chairs, couches, chaise, and stools,
• Tables: coffee, side, dining, work, standing,
• Bookable semi-private lounge, cooking and dining areas,
• Quick serve BBQ areas,
• Outdoor work areas,
• Shade structures,
• Children's play areas,
• Dog play/relief and,
• Plants (trees, shrubs, flowers, grasses).
And then there are the optional upgrades:
• Swimming pools, spas, saunas, water play and misters,
• Firepits and heat lamps,
• Ornamental fountains,
• Sports facilities and,
• Art.
Some of FORREC Landscape Architecture Studio's recent mixed-use projects have included raised planters to grow food, harvest tables, covered outdoor spaces, formal gardens, natural play, water play, pollinator gardens, outdoor exercise equipment, dog play/relief areas, ping-pong, badminton, putting greens and half basketball courts. We have also designed roof gardens that have a sweat lodge, sacred medicine plants and the 'three sisters': corn, squash and beans. To promote wellness, a recent project includes a tea garden, reflexology path and outdoor yoga/meditation area.
When developers are planning and building, we believe there are three new directions the industry should consider:
1. Brands and licenced intellectual properties
Outdoor (and indoor) amenity spaces can be designed to accommodate temporary installations, attractions and licenced features. For instance, a temporary display from the local science museum, an interactive exhibit from an artist or characters from a popular children's show.
2. Outdoor recreation
Beyond traditional sports, outdoor amenity spaces could include fun recreational activities like, obstacle courses, climbing/bouldering walls, skateboarding/scooter facilities and artificial ice-skating rinks for year-round use.
3. Media and entertainment
Setting up monitors/screens, stages and seating for outdoor movies, sports, video games, events, conferences, and live performances are a great way to provide entertainment and bring the community together. Lighting displays outdoor virtual escape environments, augmented reality (AR), mixed reality (MR) and virtual reality (VR) spaces are another way to engage and entertain residents in the digital realm.
4. Pavilions and glass houses
Stand alone structures provide residents with a place to work, meet, meditate, study, play an instrument, socialize, exercise, craft and create outdoors year-round. It's good planning to provide an outdoor studio that can be booked for individual and group use. Karaoke anyone?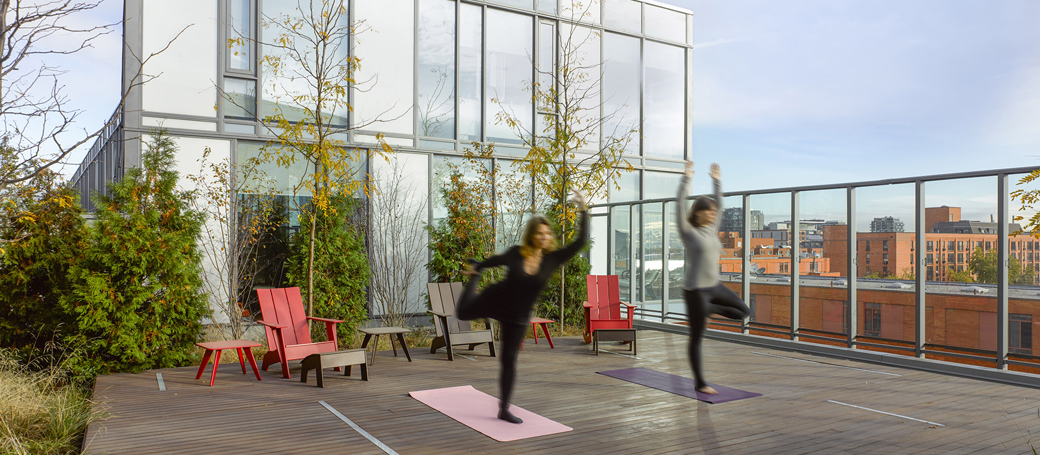 The advantages of incorporating the above directions into your new project is they all bring a varied, changing and curated guest experience to a development. An event producer would provide and deliver this content and potentially develop custom media experiences and location-based entertainment for the development, including film, AI (artificial intelligence) and XR (augmented, virtual, and mixed reality technologies). At FORREC we now have the in-house ability to provide these services through our Media, Creative and Graphics Studios.