*This is part two of this article. To read part one, click here. 
In the world of water parks, guests have a lot of expectations. After all, people go to water parks to experience fun, escapism, leisure, and recreation – all expectations that parks need to deliver on to succeed. The best water parks in the world don't just deliver on those expectations, they exceed them. These industry leading water parks are achieving this through high-caliber park design and ride design.
Steve Rhys, an experience designer and executive vice president at FORREC sat down with Ray Smegal, a water ride design expert and chief commercial officer at ProSlide, to discuss how their industries are exceeding guests' expectations through thoughtful and innovative design.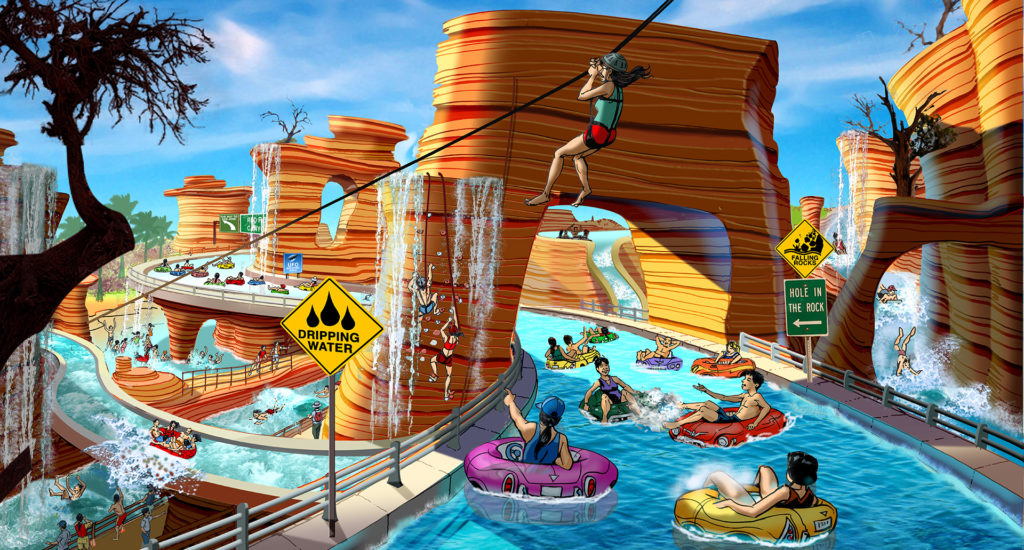 HOW CAN TECHNOLOGY SUCH AS AR/VR/MR/RFID/PROJECTIONS/AUDIO BE MORE INCORPORATED INTO WATER PARKS?
Ray: Over the past 40 years the adoption of technology into water parks has been extremely fast. If you consider that the first water parks were a few slides on a hill, today, they are being built by some of the largest theme park brands in the world. Like any industry looking for the next technological breakthrough, some products from other industries are being tested in water park environments, including VR, RFID, and emerging video and audio technologies. Some of these have potential, but many others won't fit in the water park environment. That's part of the exploratory process when looking how to integrate new technology.
When you think about the fundamentals of what makes a great water park experience, the technology that's proven to be successful is the new sliding technologies that create amazing guest experiences. For example, the world's best water parks use modern water coaster technology like our RocketBLAST or HydroMAGNETIC LIM propulsion systems. Water parks are also defined by the tall, iconic water rides that have shapes that are visually stunning and deliver amazing sliding experiences. Our TORNADO and TornadoWAVE are just a few examples of rides that utilize advanced technology to make the sliding experience so significant.
So, when you think water park technology it's not just about electronics, it's also about the technology that creates exceptional water park guest experiences.
Steve: We've seen the industry embrace new technologies such as:
• Adding chasing, blinking, and racing LED lights to insides of dark rides to accentuate the sense of speed.
• RFID for in-park games and easy cashless purchasing.
• Digital projections on pool bottoms or in dark ride environments to deliver special effects.
• Shows and water stunts and water play demonstrations for example, diving, and surfing shows/demonstrations at beach parties through the day and into the night.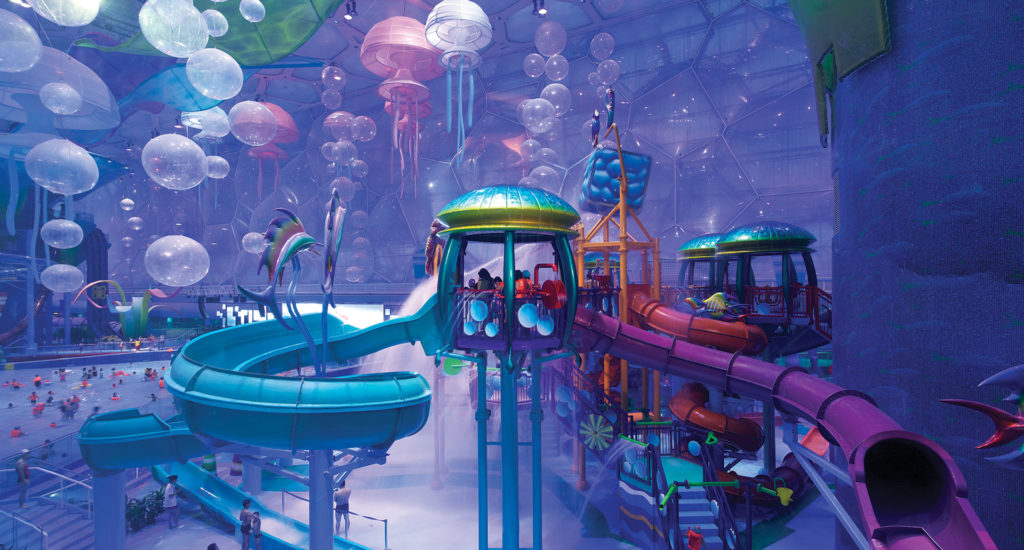 IS TECHNOLOGY AT A POINT WHERE A VERY CUSTOMISED VERSION OF AN OUTDOOR RIDE CAN BE ACHIEVED TO INTEGRATE WITH THE INDOOR PARK?

Ray: Indoor water parks have become the anchor amenities for hotels, retail, malls, and even casino properties. Conventional properties are adding a resort element that helps drive attendance and – in the case of hotels – room rates. Water ride technology has been at the forefront of the indoor water park revolution. It wasn't more than 25 years ago that the indoor water park was more than a simple body slide. Through creative design and new technology developed by ride designers, the largest water rides can be adapted to the indoor water park environment. For instance, the TORNADO 60 is one of the most iconic water rides in the world because of its towering size. But through strategic design we've engineered capped versions that can fit inside or outside of the building footprint – like at Great Wolf Lodge, Kalahari, American Dream, and Europa Park.
Steve: The technology already exists, and the limitations are beginning to become a nonissue. The challenge is always going to be the cost of indoor space. Clever ways of layering rides and effectively pushing most of the structure of inherently large rides outdoors except the ride launch and return sections. Ride engineers continue to work on compressed versions of existing popular water rides. Some are developing new ways to enhance the compressed ride with tricks and effects that make the experience seem to last longer.
WHAT ARE WATERPARKS DOING TO BE MORE SUSTAINABLE?
Steve: Wasteful use of water is being reduced more and more as water quality maintenance technologies improve and backwashing is far less wasteful. Other environmental issues that have come up around water parks revolve around energy consumption. As designers, we look to the ride manufacturers and aquatic engineers to address the options and viability of developing technologies.
Ray: Water ride attractions are being designed more efficiently with new technology and in close collaboration with park and mechanical designers. With the popularity of water parks around the world, comes the fact that they also exist in areas of drought and sensitive power usage requirements. That means water ride designers need to think creatively about reducing the use of those resources.
One example of a water ride technology that is more sustainable is water coasters. Conventional water coaster sheet flow technology has been around since the early 90s and was really the standard until 2005. At that time, ProSlide created a linear induction motor propulsion technology – which powers our HydroMAGNETIC coasters – that was on demand and energized only when a boat was going uphill. This lowered energy requirements on the water coasters by more than 50 per cent.
Another example of energy efficient technology is using water only when a vehicle or person is travelling in the flume. Like hybrid or electric cars that shut off at a traffic light or when stationary, we use variable frequency drives (VFDs) to turn water on and off on demand. We call this technology ECO mode and it's available on all our water rides, including water coasters.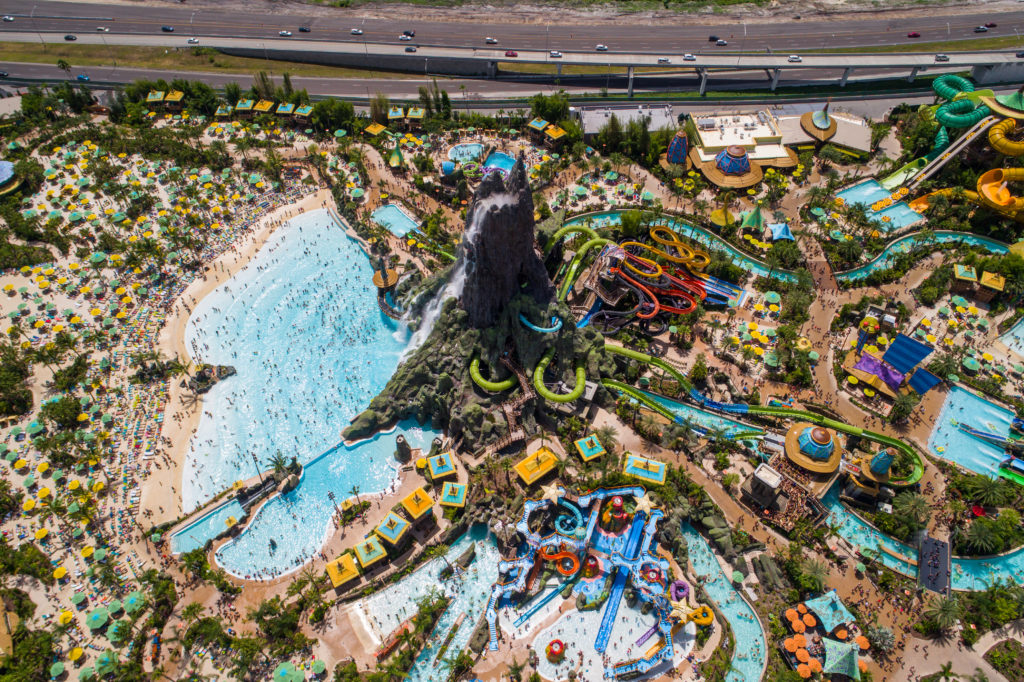 WHAT WILL WATER PARK RIDES LOOK LIKE IN 10 YEARS OR WHAT DO YOU HOPE WILL BE CREATED?
Ray: We continue to look for inspiration in all the ways that people can ride, slide, and experience the magic of water. Over the past 40 years, water rides have undergone quite the evolution: from guests body sliding down concrete channels to riding sophisticated high technology water coasters using linear induction motors. Rides like water coasters will be a big part of the future of water parks as they continue to grow into some of the most sought after, high-volume recreational facilities in the world.
Steve: As designers, we try to imagine the way we could play with water and the way it would behave under different conditions for example, in natural environments like waterfalls, rapids, an ocean side beach, or tidal waves, a river or whirlpool, or a mountain side stream. We then try to re-create those conditions so that the guest can safely play in them. We also try to defy gravity and do things with water that the guest wouldn't expect to see.
Working with the manufacturers and designers of water rides and developers of emerging technology, we can imagine and push the envelope of water play experiences that we couldn't do in the past.