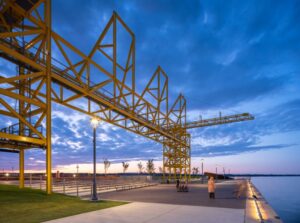 COPPS PIER; Photo Credit Scott Norsworthy
TORONTO – FORREC is delighted to announce that COPPS Pier Park has received the Hamilton Urban Design Award in the Open Spaces, Public Spaces, Green Infrastructure category. The announcement, made on November 8, 2023, during the Hamilton Urban Design Awards ceremony, signifies a monumental achievement for urban development in the region.
The transformative approach to waterfront redevelopment has forever altered Hamilton's urban landscape. COPPS Pier Park, designed by FORREC, is poised to become the focal point of the emerging West Harbour district. The innovative "landscape-first" strategy involves creating an appealing public space, around which the community can organically develop alongside the planned mid-rise community.
Scott Torrance, FORREC's Senior Director – Landscape Architecture, led a diverse team that included in-house designers, architects, external engineering subconsultants, art consultants, and public artists. Their holistic perspective balanced creative vision, visitor experience, site story, built elements, planting design, sustainability, complex engineering, and budget.
Situated on the decommissioned waterfront pier in Hamilton Harbour, the COPPS Pier project narrates the city's history through three distinct experiences: Hammer Harbour, The Landing, and Boatworks Promenade. These experiences combine to form a public space connecting to the waterfront trail system, adjacent mid-rise community, and showcasing views of Hamilton Harbour and the Niagara Escarpment.
FORREC's design seamlessly blends contemporary waterfront aesthetics with nods to the site's history, incorporating ship hulls, gantries, and groves of native Carolinian trees. Bold yet simple, it pays homage to the city's industrial heritage.
The City of Hamilton's investment in public realm and design excellence prior to waterfront construction is evident in this new park destination. The landscape-first design, recognized by the Hamilton Urban Design Award, creates over 1.4 hectares of new park space with public access to the water's edge.
Scott Torrance expressed, "This recognition is a testament to the dedication and creativity of our multidisciplinary team. COPPS Pier park celebrates Hamilton's past, present, and future, and we are proud to have played a role in shaping the future of Hamilton's waterfront."
The Hamilton Urban Design Award underscores COPPS Pier park's contribution to enhancing the city's landscape and providing a welcoming public space for community growth. As Hamilton's waterfront undergoes transformative development, COPPS Pier park stands as a symbol of progress and innovation.
Under Torrance's direction, FORREC handled Schematic Design, Design Development, Construction Documents, and Contract Administration, providing Landscape Architecture, Architecture, Signage and Wayfinding, Graphic Design, Visualization, and Visitor Experience services in-house. The sub-consultant team included:
| | |
| --- | --- |
| CIMA+: Civil Engineer | Suzanne Powadiuk Design: Lighting |
| EXP: Electrical, Structural and Mechanical Engineers | Creative Irrigation Solutions Inc: Irrigation Design |
| Altus – Cost Consultant | Andrew Davies: Public Art Consultant |
| TH&B Collective: Artist | Simon Frank: Artist |
-30-
For more information, visit forrec.com
Social Media:
Instagram | Twitter @FORRECDesigns
Facebook.com/ForrecDesigns
LinkedIn: /company/forrec
ABOUT FORREC
FORREC is an experience design company that has created some of world's most successful leisure and entertainment destinations globally. We go above and beyond with inspiring creativity, ingenious know-how, and transformative guest experience. FORREC's extensive experience in strategy, planning, and design, allows us to create compelling guest experiences rooted in imagination and immersive storytelling for location-based entertainment including theme parks, attractions, water parks, mixed-used + entertainment, landscape architecture + urban design, and resorts. Our team can deliver a full spectrum of creative and design management services to meet the objectives of any experiential design project at all scales, locally and globally.
With a history that spans over 35 years, FORREC has experience working with brands all over the world, including in six continents, and built projects in over 30 countries. FORREC is headquartered in Toronto, Canada with offices in China and the U.S.