The Evolution of Tourism in China
Before the 1980s most Chinese people had never seen an amusement park ride before. In 1983 one of the first Chinese amusement parks opened – Zhongshan Park in Beijing – followed by an explosion of Japanese designed and supplied parks across China. Then, in the 90s things began to really take off and we are fortunate to have witnessed the nation's entertainment growth and evolution firsthand.
…and so much has changed since then!
1. The Real Deal – From knockoffs to best in class
I recall visiting a non-Disney amusement park in Beijing in the early 90s, where Mickey and Minnie Mouse greeted me warmly at the front gate. Needless to say, while this was shut down fairly quickly by their rightful owners, it's always a little jarring to see known IP so cavalierly displayed in parks around China.
How things have changed. Although copyright infringement can still be an issue in China (as it is in many parts of the world), Chinese developers have retained the local development rights for some of the leading international brands and operators and are coming to the forefront in creating leading branded attractions in China. Of course, Disney led the way in Shanghai in 2016, where guests can now meet the "real" Mickey and Minnie!
2. When the Student Becomes the Master – From Western know-it-all to local know-how
There was a time when Chinese owners looked almost exclusively to international expertise for their theme park and entertainment design needs. Although we may not have known it at the time, we had a responsibility to set the groundwork for the future. This meant delivering pragmatic solutions while raising expectations and excellence – and feeding our clients' ambitions through sound advice.
Today I marvel at the talent in China. Our clients have built teams of architects and designers that are world class. Often, we see competition from new local design firms with worldly experience and rippling with excitement. This is all great for the industry and it will make us all better.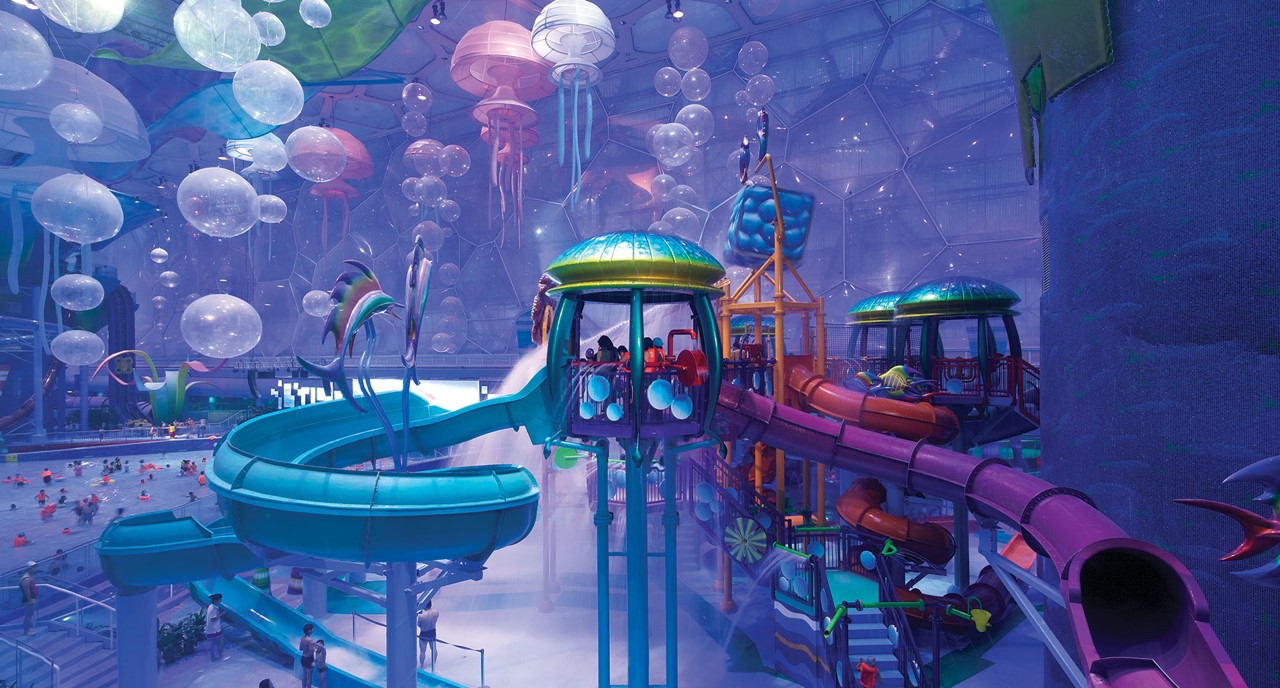 3. Even Better Than the Real Thing – Celebrating China
Many of our early theme park projects in China had some mix of a German town, English village, Main Street USA, Venetian canals, etc. Our early efforts to embrace Chinese culture in our designs were often dismissed by our clients, based on the belief that guests did not have the opportunity to see the world, so bring the world to them.
There will always be a place for this, but the transformation of China in the past two decades has seen the Chinese as some of the world's most prolific international travelers. Perhaps for this reason, and an emerging self-confidence, there is a growing interest in celebrating local culture, achievements and architecture. There is so much inspiration to draw from and both designers and guests are the beneficiaries.

4. It's a Small World After All – The Globalization of China
In the early 90s China was still somewhat inward looking, with very little exposure to the outside world. This made visiting China very exciting, particularly if you were adventurous when it came to cuisine. Frog fat soup, boiled snake, sand worms, while tasty, rarely show up at business dinners these days.
Chinese hosts no longer feel the need to shock their foreign guests. In fact, some Chinese dishes have been tailored slightly to appeal to international guests and have also benefited from exposure to international culinary methods creating incredible fusion creations. It's also nice to have the occasional glass of red wine, something rarely seen even 15 years ago despite China's rich history in grape wine production.

5. Theme Park Face-Lift – There's Always Room for Improvement
Theme parks have been sprouting across China over the past 30 years. However, for the most part these were created with low expectations, limited budgets and lacking in planning fundamentals that we take for granted today.
With the emergence of world class entertainment destinations, cutting edge technology and world leading branded attractions in China, there is an expressed need to retrofit and revitalize the old parks. This is become a burgeoning industry, and entirely a result of the bar being raised so high and so quickly.
6. Started from the Bottom, Now We're Here – Raising the Bar
In the past, "Made in China" was synonymous with poor quality. Building construction in general was pragmatic and rudimentary. Theme parks were poorly executed and aged very quickly.
It is refreshing to today see some of the world's most innovative developments, high quality construction, leading designs in architecture and entertainment and sustainable initiatives. As a designer it's gratifying to work in an environment where the possibilities seem unlimited.

7. Champagne Taste on a Beer Budget – A penny for your thoughts?
China, in some ways, has come full circle. The early days saw low budgets, for both projects and consulting fees, to keep in line with limited demand. This was followed by a period of great exuberance, where construction budgets were unlimited, and no idea was too grand.
Today, most – if not all – of our projects begin with a degree of due diligence, market analysis, financial feasibility and/or an eye on the bottom line. This has come after years of project failures due to overbuilding, strong competition and after building for real estate value rather than consumer/guest needs. Finally.
8. Exploring New Territory: From Government to Private Ventures
Most of the projects we were involved in during the 90s were government projects, often operating as corporate entities. These companies were often set up as profit centres to spur economic and development activity.
The emergence and success of the market economy has created numerous successful private companies who have become global leaders. It has been an incredible shift whereby most of our dealings in China today are with entrepreneurial private individuals and companies.
9. If You Build It, They Will Come
China gained notoriety for its ghost towns, and highways that led to nowhere. I once visited a fully formed city, with government buildings, libraries, an opera house, museum and tracts of residential built on a world class road and transportation network. A main highway leading to the city went over a manmade river – "for every great city has a river".  I also did not see a soul.
Today, many of these ghost town are brimming with life, and the highways to nowhere paved the way for vital infrastructure necessary to spawn brand new booming communities. High speed trains in every major city – and future cities. It is truly remarkable!
10. The Rise of the Middle Class
Much if not all of China's success can be attributed to the rise of the middle class – some 400 million people – in part a result of the success of the market economy and strong government support.
Two-day weekends (a fairly recent development), increased spending money, a love of family and a desire to create a higher quality of life, has led to China becoming the envy of the world – and a Shangri-La for designers.