When people think of the environment, they often think of the outdoors and global issues such as greenhouse gases, climate change and habitat protection. However, you don't have to look far to realize that everything we do and create, inside and out, impacts those greater issues.
When Canvas, a Government licenced retail cannabis boutique, reached out to FORREC for help in designing the first east-end, woman owned and operated cannabis store in Toronto, they wanted to provide a fresh outlook on the retail experience. With their goals in mind, we designed their Toronto boutique using several sustainable strategies that stem well beyond the interior fit up.
Interior Commitment to Sustainability
People spend a lot of their time indoors and the quality of our indoor environment can affect our daily life. Common materials such as plastics used for veneers, packaging, and laminates emit chemicals known as volatile organic compounds (VOCs), many of which can be toxic and contribute to indoor air pollution. Indoor air pollution has been linked to health problems, from headaches and allergic reactions to a range of serious illnesses. When thinking about designing Canvas we wanted to ensure good air quality and proper ventilation for their staff and visiting clients. We wanted to limit the use of plastics and sought non-toxic alternatives that are just as durable and beautiful: floors are porcelain, not vinyl, and display cases are glass, not acrylic.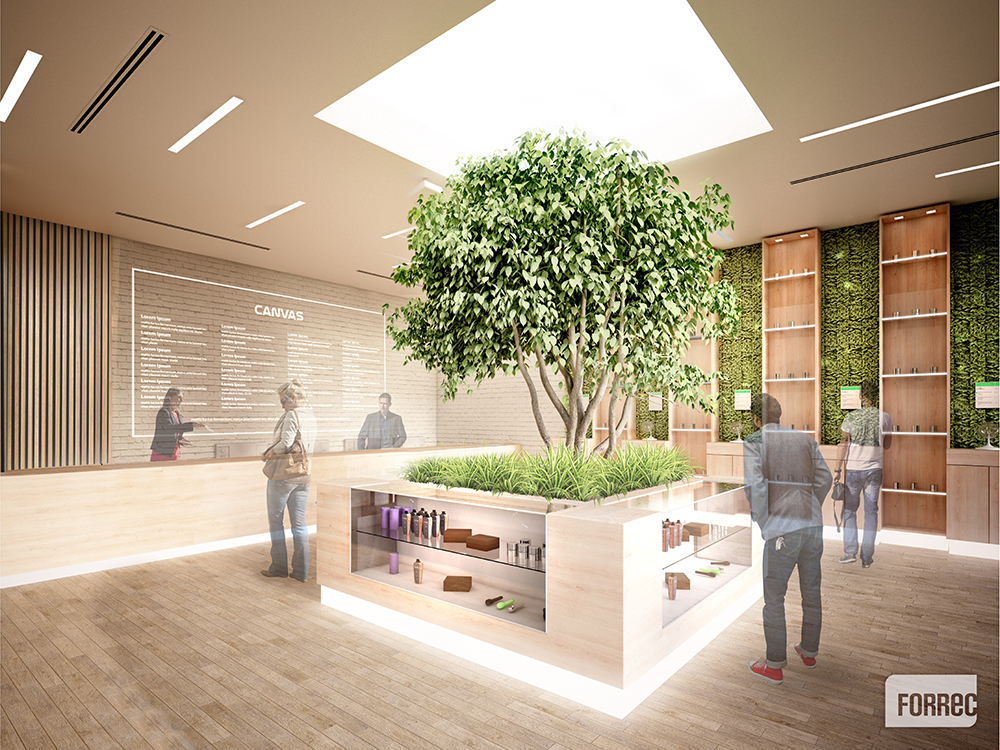 Interior Landscaping
Making the walls, flooring, and general store front environmentally friendly was just the beginning in realizing Canvas' vision. Canvas' subtle, elegant décor is infused with natural elements: a living tree is the centerpiece of the interior, surrounded by preserved moss walls. The live tree and plants are not only beautiful decoration, but they improve the air quality within the boutique – something a plastic plant cannot do. Plants and trees help clean the air we breathe daily through a complex process called photosynthesis whereby they trap and remove toxins like carbon dioxide from our atmosphere through their leaves. Studies in biophilic design have also shown that exposure to nature helps reduce stress and promotes a sense of well-being. Live plants bring nature indoors and create a tranquil environment that invites customers to relax, take their time, and shop in comfort.
Retail Commitment to Sustainability
To support Canvas' commitment to sustainability, we wanted to use material that had low environmental impact. As Canvas is a cannabis boutique, it felt fitting that staff uniforms and reusable retail shopping bags would be made from hemp canvas and textiles.
Hemp, made from cannabis sativa fibre, can be dated as far back at 8,000BC, making it one of the oldest and most used sources for fabric.  However, as farming evolved in the 1950s to become more mechanized, cotton and cheaper synthetic fabrics became prioritized. As these industries took over, hemp was pushed out of the market, especially because hemp was often associated with marijuana, and growing it became restricted (even though industrial hemp contains less than 0.3% of the "high"-producing THC). 1
As a material, hemp is exceptionally environmentally friendly. A hemp crop consumes far fewer resources than cotton and it requires significantly less water to grow per season than conventional cotton. It is also very resilient and easy to grow organically without pesticides, insecticides, herbicides or genetically modified seeds. It is fast growing and can grow in a range of soils and climates at a very high yield, making it very renewable. Its short growth period makes it possible to grow locally in many parts of Canada. Hemp is one of the strongest natural fibres, so textiles made from hemp are very durable. Canvas' long-lasting uniforms will not need to be replaced as often, which leads to long term savings for Canvas and less waste.
As more and more people are moving towards being more sustainable in their daily lives, it's important that businesses are thinking green too, from the onset.
New textiles, bioplastics, and construction material made from hemp, cork, bamboo, and other environmentally friendlier sources are opening new doors for interior design and construction. These new materials provide exciting possibilities to design spaces that are not only beautiful, but also healthy and sustainable.