With a population of 2.8 million people, Toronto continues to be an excellent laboratory for the evolving practice of installing plants and soil on building rooftops in a large urban setting. In 2010, the City of Toronto introduced a bylaw requiring the installation of green roofs on most types of new development. The goals of the bylaw were to reduce the urban heat island effect, energy consumption, and stormwater run-off while improving air quality, fostering biodiversity, and beautifying the urban landscape.
The Toronto Green Standard was created to provide energy efficiency and sustainability metrics for developers to achieve. Under the water quality category of the mandatory Toronto Green Standard Tier 1, new private developments must capture and retain a minimum of 5mm of rainfall from all impermeable surfaces (City of Toronto buildings are required to meet a higher standard of 10mm). The development must then use and dispatch this captured water through infiltration into the ground, evapotranspiration into the atmosphere, or water reuse within the building – such as toilets which flush to the City's sanitary sewer system – as opposed to releasing into the City's storm sewer system. This minimum volume increases to 25mm if the development intends to attain a Tier 3 (which is voluntary) or LEED Platinum rating.
As most new developments within the City are mid- and high-rise buildings developed fully to their property lines, very little, if any, planting at grade is available for infiltration and evapotranspiration. This is because terra firma is not available within the property lines. As a result, most of the captured water must be collected and reused by planting that is installed on the built structure itself such as a building or a parking garage. After the necessary volume of water to irrigate the site's planting areas is calculated, the remainder must be collected and stored in a stormwater cistern. The development must then demonstrate the remaining water can be balanced by other usage demands (drawdown) within a 72-hour period (72-hours as being a maximum draw-down time to allow the tank to have available capacity for the next rainfall).
Having designed many green roofs, both pre- and post-bylaw in the City of Toronto, I have seen an evolution in their design from the immediate years after the bylaw was introduced to the present. This evolution is being driven by the necessity to use irrigation to satisfy the captured storm water balance required to obtain development approvals from the City. Initially, green roofs on most new developments were constructed using the most cost-effective and lowest performing means: a shallow and quick draining growing medium (fine gravel), drought tolerant non-native plant species (sedum), and no automated irrigation system (rainfall).
The challenge of meeting the water balance and returning larger and larger volumes of captured stormwater to the environment is forcing landscape architects to develop innovative planting and irrigation strategies. These strategies should not be purely technical, but rather as opportunities to enhance the value of the development and provide a unique story and identity to the project. The following is my list of the top five strategies to use green roofs to maximize usage of captured storm water.
1. Trees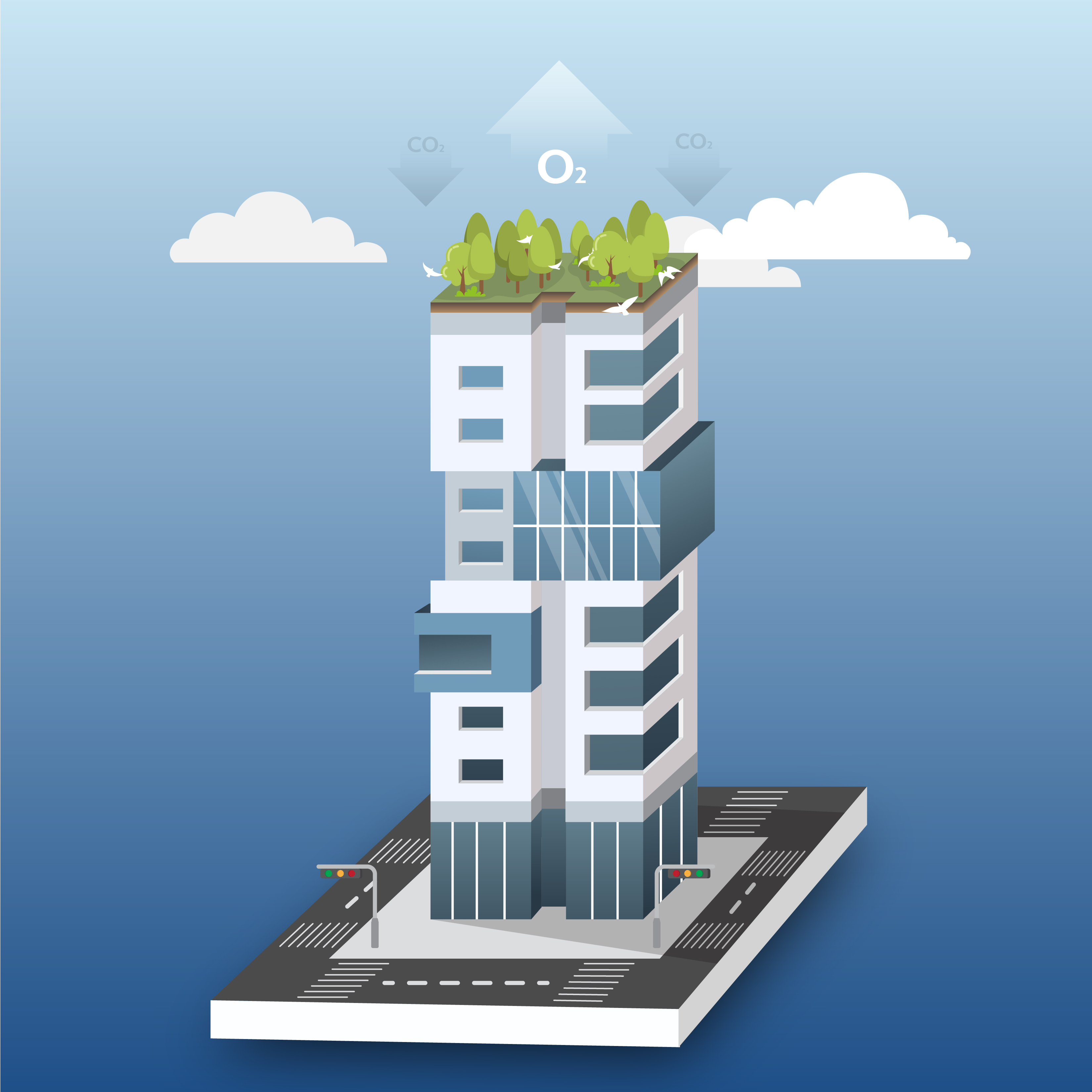 Trees are our number one tool to fight climate change. Besides using and absorbing the most water of all flora, they provide shade, beauty, habitat for fauna, and carbon sequestration. There are several challenges associated with planting trees on buildings, the least of which is providing the necessary soil volume to support a tree reaching its mature size and the resulting additional loads on the building's structure. However, many projects are using trees integrated into the architecture to create a unique identity for their projects and owners. The most famous example is the Bosco Verticale in Milan. In Toronto, we integrated unique pine trees onto the outdoor terrace of ESRI Canada. This approach provided the green roof with large conifers that retain their foliage throughout the year, a unique visual character to the building's occupants and reinforces the company's environmental brand.
2. Biodiversity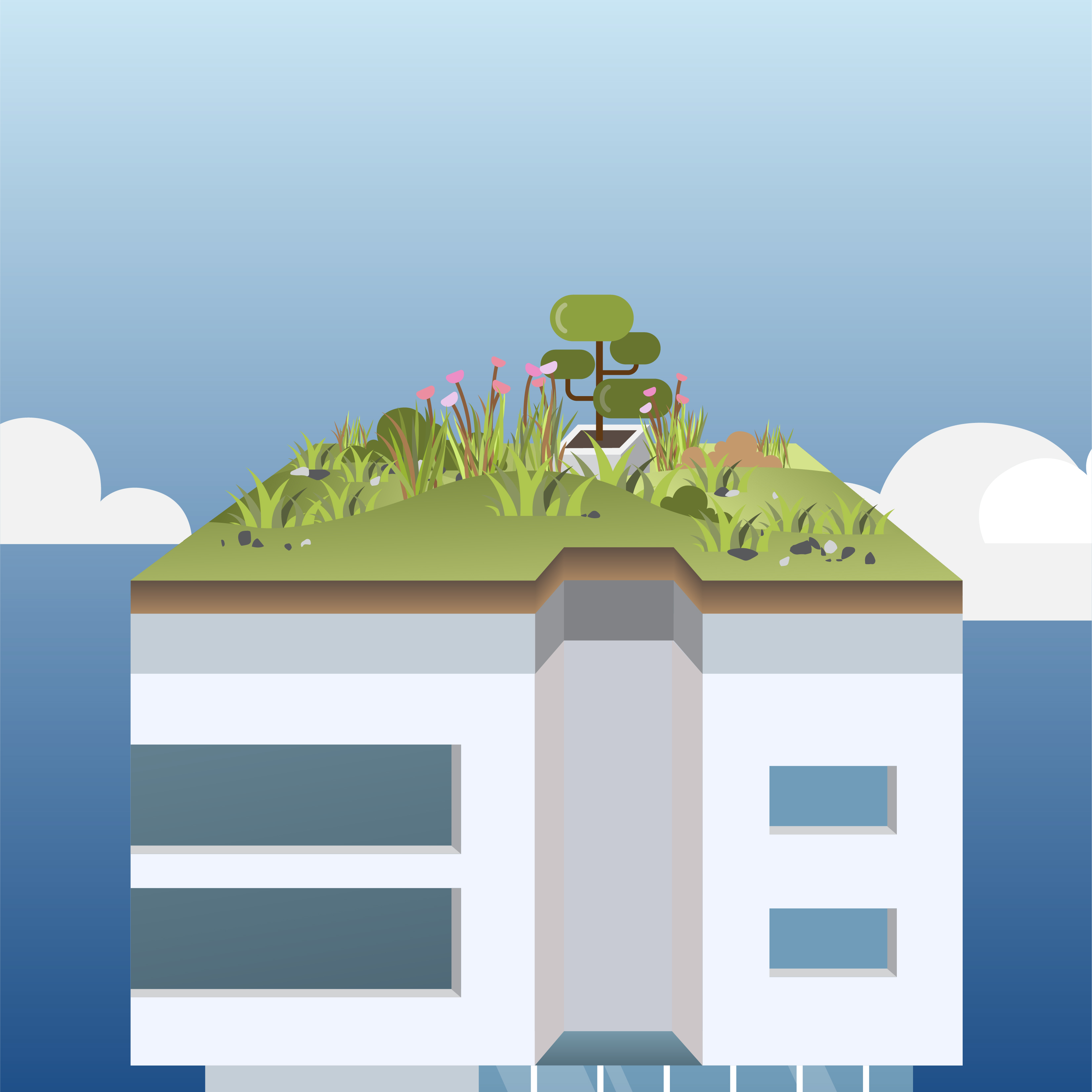 In order to maximize the water use, plants must be selected appropriately. Research demonstrates that mixed species of plant types outperform monocultures of only one species type. Typical green roofs contain one species of a non-native succulent that requires very little water (sedum). Combining native forbs (herbaceous perennials) with grasses and woody shrubs using natural ecosystems that replicate the artificial conditions of planting on buildings is called an 'analogue'. On the Scarborough Library, we used a little bluestem alvar ecosystem (which has shallow soils over an impermeable layer of limestone) as an analogue for this green roof. This added an additional story and learning opportunity to a building dedicated to housing books and facilitating learning. The project demonstrated how to promote biodiversity using the guidelines we developed previously for the City of Toronto without increasing the building's green roof budget.
3. Urban Agriculture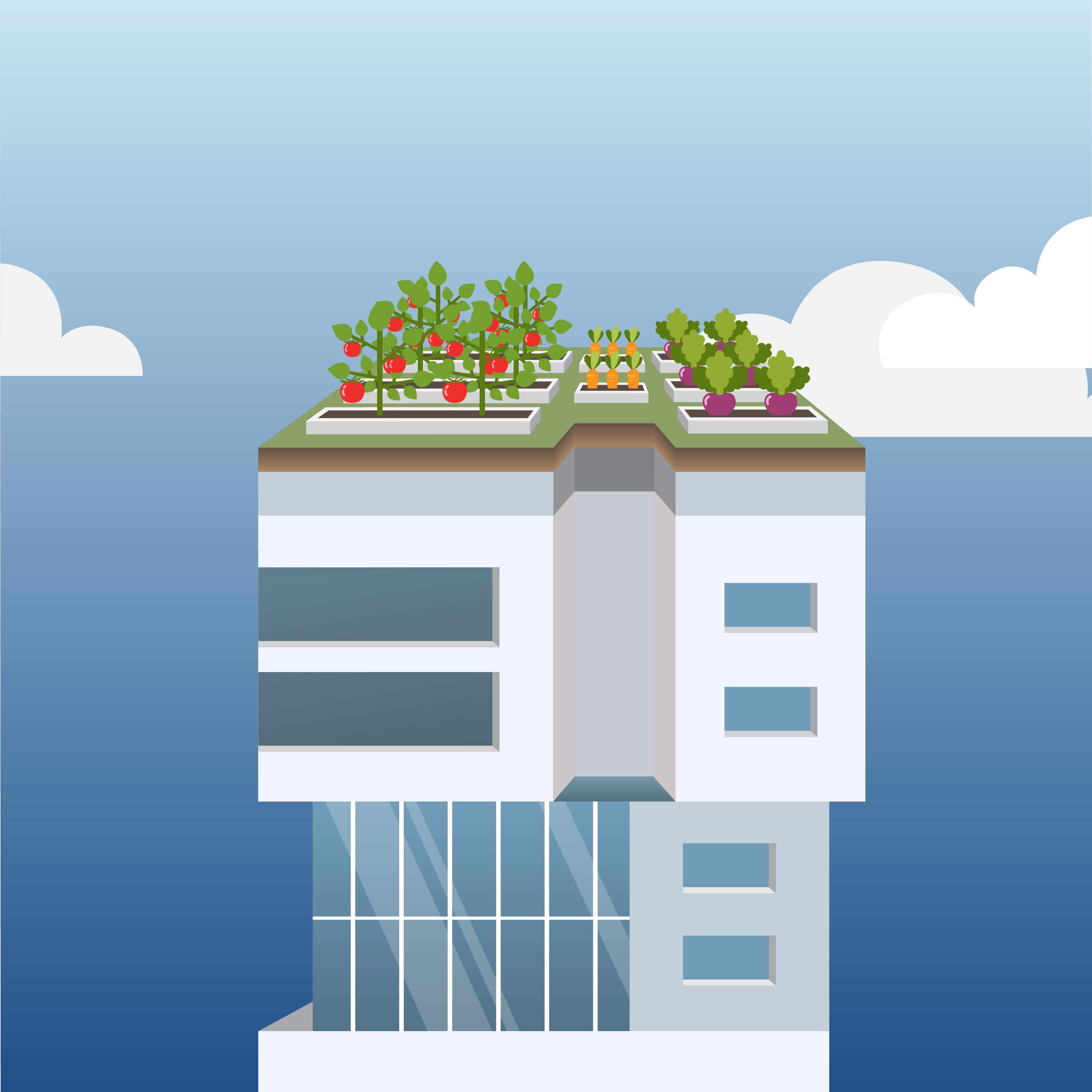 Most crop plants require considerable and regular irrigation. Beets, radishes, and tomatoes are all excellent examples of water loving plants. Roof gardens provide a number of benefits: they allow their occupants to grow their own fresh food, restaurants to provide niche local plants to differentiate their menu offerings, and commercial growers to make available specialty, high-value heirloom fruits and vegetables. At 230 Sackville, the highly coveted garden plots we integrated onto the 9th floor terrace allow the residents – who are mostly new Canadians – to cost effectively grow fresh food from their native countries (most of which isn't available at local groceries).
4. Green Walls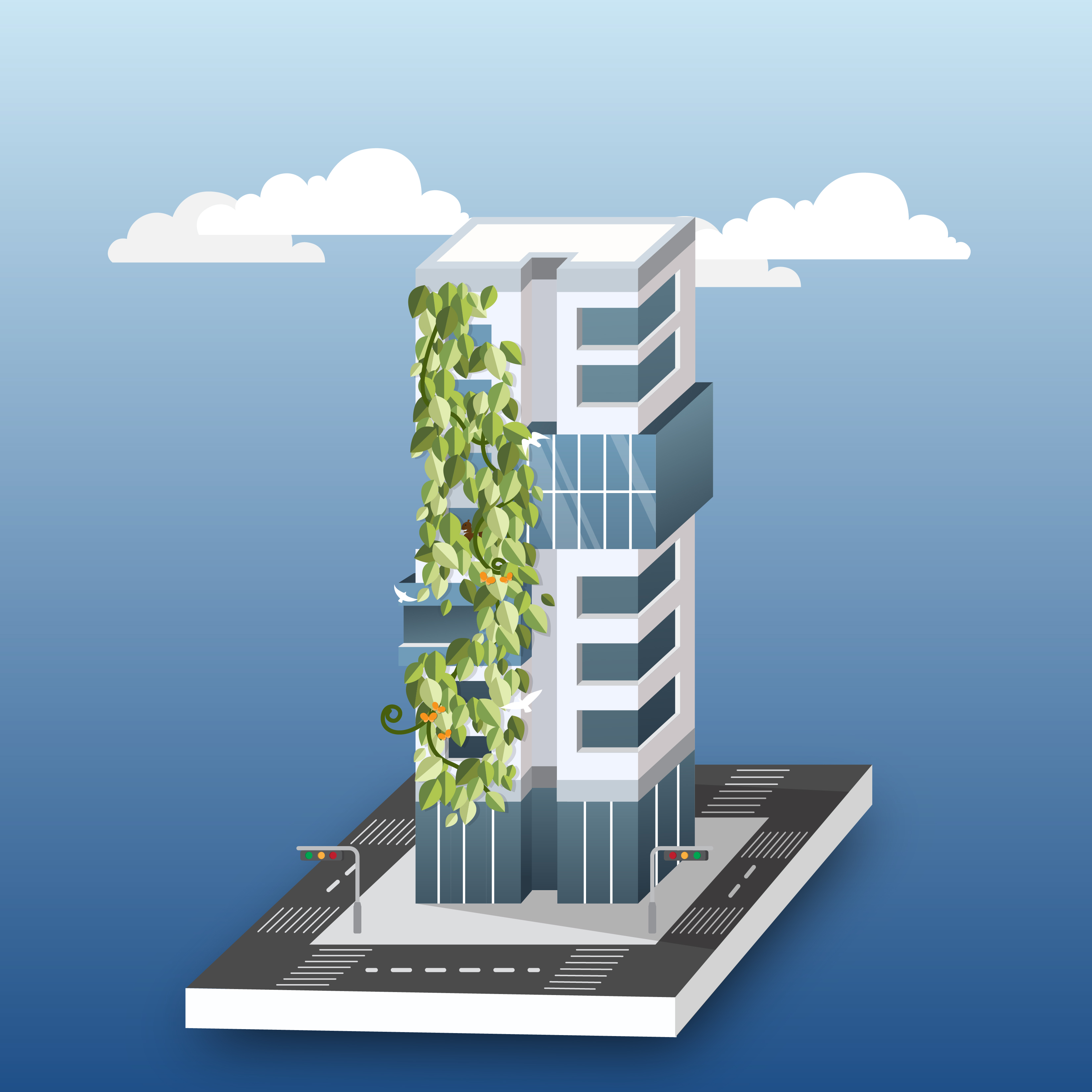 Green walls, which rely completely on automated irrigation, provide the opportunity to irrigate newfound planting space on buildings, helping the water balance equation. Vegetated vertical surfaces provide a unique and memorable identity to buildings and may be visible to occupants from within. Green walls can also be playful, either through the way plants are laid out or through the enjoyment provided by watching the birds, butterflies, and squirrels that visit them.
5. Evaporative Features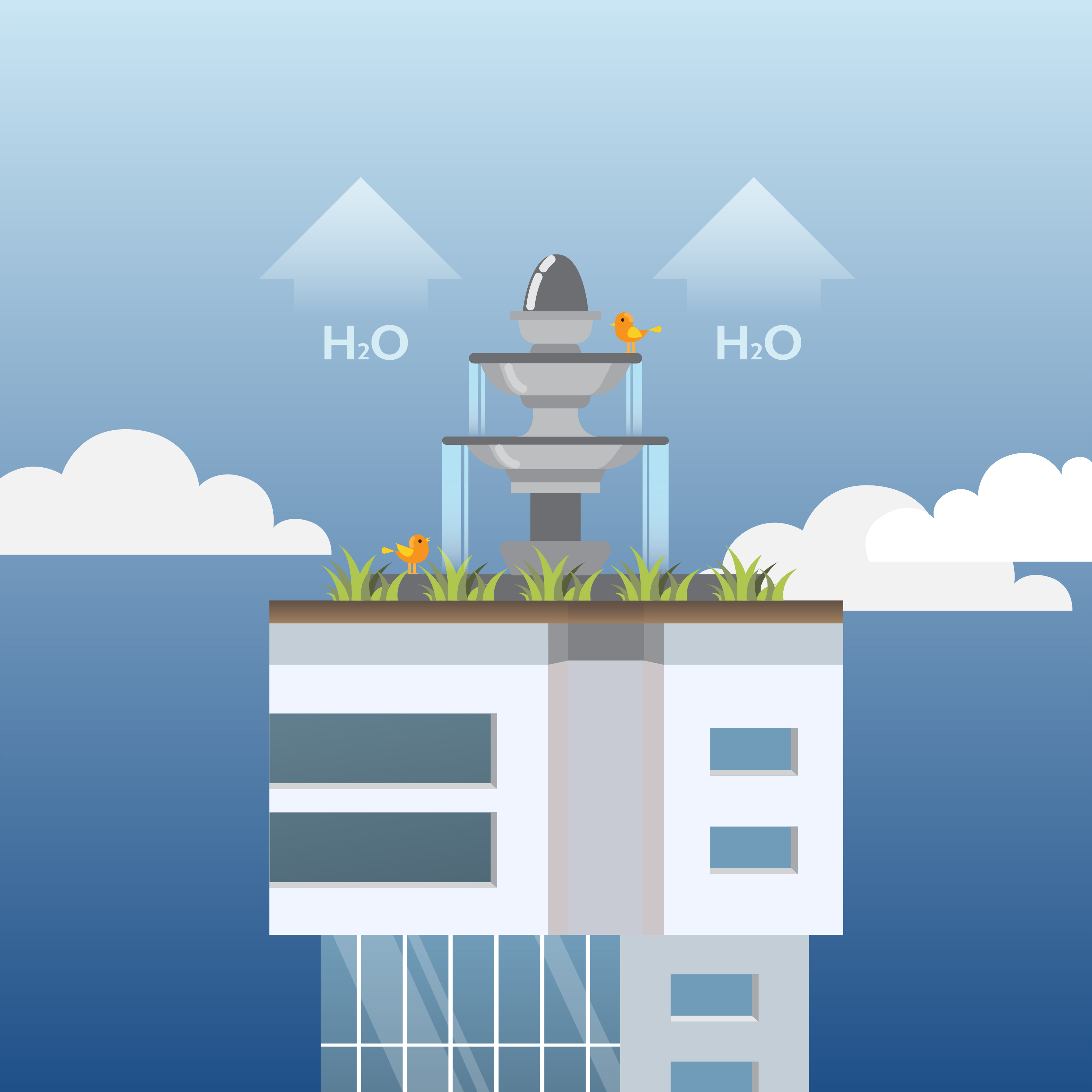 Memorable gardens throughout history and various cultures almost always incorporate water and fountains. At the Alhambra in southern Spain, a large reflective pool of water cools a beautiful courtyard garden. Today, water is increasingly being used in fun and inventive ways, including water curtains with projected images and misters to cool users. The use of captured, harvested water will, in most cases, require it be filtered and treated to meet public health requirements. However, the delight in incorporating water features as evaporative devices on new buildings is that they provide sound, cooling, beauty, therapeutic benefits, and support wildlife. Evaporative features and fountains may use harvested storm water and be successfully incorporated into green roofs.