In the world of water parks, guests have a lot of expectations. After all, people go to water parks to experience fun, escapism, leisure, and recreation – all expectations that parks need to deliver on to succeed. The best water parks in the world don't just deliver on those expectations, they exceed them. These industry leading water parks are achieving this through high-caliber park design and ride design.
Steve Rhys, an experience designer and executive vice president at FORREC sat down with Ray Smegal, a water ride design expert and chief commercial officer at ProSlide, to discuss how their industries are exceeding guests' expectations through thoughtful and innovative design.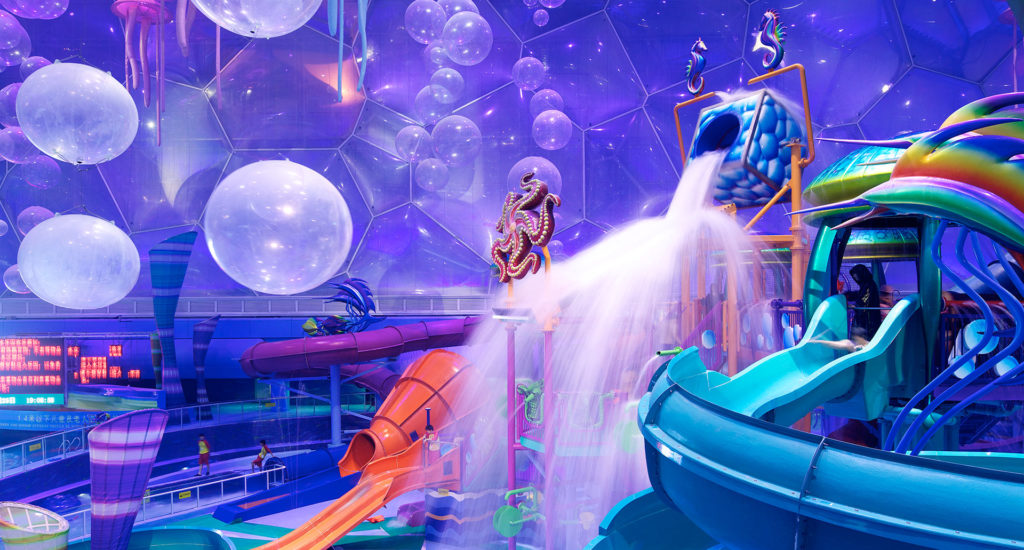 WHAT ARE GUESTS LOOKING FOR IN WATER PARKS?
Steve Rhys: It goes without saying that the appeal is getting to play in water, especially in hot weather! The key to success in the water attractions industry is understanding that there is a very broad spectrum of things guests would love to do in water play, including thrills, speed and competitive challenges, floating and lounging, and relaxing on the proverbial 'beach'.Of course, guests look for reviews that attest to level of guest services and safety, and of course lots of diversity in rides.
Ray Smegal: Guests are looking for an escape and to enjoy water-based recreation. Water parks are synonymous with summer – enjoying hot days with friends and family. Over the years, water parks have evolved and the most successful parks are designed with seamless integration of landscape, architecture, and water ride design. It's a beautiful thing when it all comes together!
WHAT DO INDUSTRY CLIENTS WANT IN WATER PARK DESIGN?
Steve: As more and more water parks and attractions are developed across the globe, water park clients often ask us what else they can offer in a competitive, often crowded market to stand out. A few ways owners can meet these goals include:
• Finding ways of increasing in-park guest spending beyond just the entry ticket price (i.e. offer catered cabanas so families can relax out of the direct sunlight, purchase food and have a quiet area for kids if they need to nap). Bonus amenities like a cabana can often result in a longer stay in the park and subsequently, more spending.
• Offering a varied group of fun experiences and adding non-typical water attractions (i.e. flumes, soak coasters, flat water mechanical rides) that do not rely on hot, sunny days. This will help attract a broader guest market and combat the idea that a water park can only be fun in hot, sunny weather.
• Creating memorable moments in environments that feel more integrated into the site or a story about the place, culture, or even a brand.
• Making water the vehicle for connecting all things that guest engages in, such as swim up food and beverage bar, connecting rides to one another and transporting people around the site.
Ray: The best water parks in the world are designed with water rides that deliver unforgettable guest experiences and cater to all demographics. It is because of this; guests seek out these high entertainment valued rides and return again and again.  These rides soon become anchor rides at the park and define the very essence of the water park's brand.  We have seen it time and time again with iconic roller coasters like Space Mountain – Disney World or The Hulk – Universal Orlando.
Clients are looking for innovative rides that include the latest technology. If we look back to where water parks started in the 70's and 80's, they were very small businesses with body and tubes slides. Through the 90's, 00's, and 10's water ride innovation like Racers, BOWLS, TORNADO, LIM Water Coasters, and FlyingSAUCER transformed water parks.
Looking into 2020 and beyond, water ride innovation will continue to drive demand for water parks. My advice: choose innovative attractions that are purposefully designed, deliver the best entertainment value, safety, performance, and marketing impact.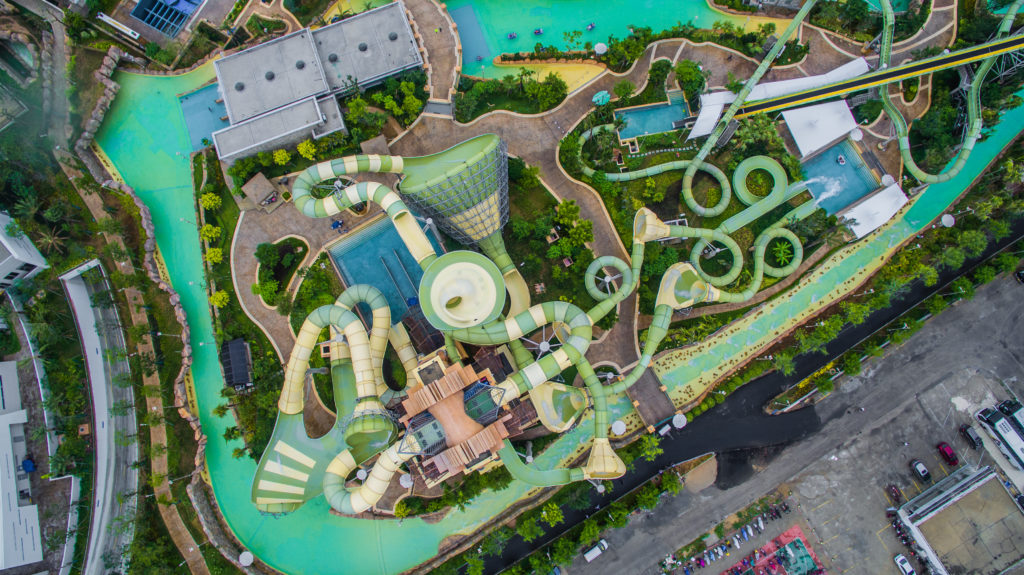 WHAT MAKES A WATERPARK EXPERIENCE DIFFERENT AND MORE ATTRACTIVE TO GUESTS THAN AN AMUSEMENT PARK?
Steve: The answer lies in the very nature of what guests play in and play with while in a water park, the water. The success of water parks relies on the creative ways that owners, manufacturers, and designers can imagine playing in and with water.
Water parks are introducing other entertainment for social interactions such as games, programmed events, as well as spectator/participatory experiences including surfing, climbing waterfalls, water sports, that are integrated into the unique features of the site and environment. Things guests used to dream about, like never having to get out of one ride to get into another, are becoming a reality due to the innovation of fusing concrete pools with fibreglass slides/rides. Water is the thread of every activity we create for our guests.
Ray: It starts with water! Water parks have always had an amazing appeal because it's as natural of an experience as being at the beach or the lake. Families gather at water parks, setup their beach chair or cabana, and experience a day on the water rides, rivers, and wave pool.
The strength of a modern water park is this natural experience combined with the iconic, high-performance water rides. Water Parks are the best of both worlds.
This is part one of this article. Read part two here.